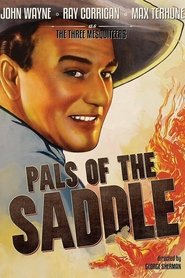 Pals of the Saddle (1938)
Returning a lost item to Ann, Stony arrives just two men shoot each other. Ann is a Government Agent and she gets Stony to replace her now dead partner. An important chemical is being smuggled out of the country and she sends Stony to the storage facility posing as the foreign Agent. He fools the guards but the boss arrives to expose the hoax and Stony is made a prisoner.
Duration: 55 min
Quality: HD
Release: 1938
Tagline: PERIL-PACKED ADVENTURE With dashing devil-may-care John Wayne leading the Mesquiteers into their greatest, most thrilling range exploits!
6.0